Here's what people say
Wonderful experience. Teachers are knowledgable, helpful and caring. They truly seem to want to help you find your purpose for being there.

Ann Marie Sullivan


5/25/2019

I got the gateless gate workshop as a gift from my partner. I recommend this workshop to anyone willimg to open their minds, to exercise and meditate. It is a great workshop to be present within yourself. I was a great time spent. The place is located near the station with accessible parking.

liz carvalho


12/25/2019

I started taking weekly private meditation lessons during the midst of a health crisis. Each week I learn more about the mind-body connection and gain techniques to practice at home. Grand Master Alex tailored the sessions to my situation with the goal at the end being self-sufficiency: that after teaching, I will be able to take care of myself in the future. I am still on this path but I have benefited greatly from the guidance, mind-training, and practice over the last few months.

Mook Bangalore


4/09/2019

This an amazing place. The entire operation is well thought out and supports their goals of harmony, stress reduction and mindfulness. The tai chi lessons are both a good exercise class and an introduction to new movements and challenges. If you have never done tai chi, you will find it different from other exercise routines and the staff here are skilled at leading you along. They never make you feel as though you cannot do it. I wish I discovered them when I was working at stressful jobs!

Al Ramey


10/01/2019

Simple and effective with immediate results. I love this place!

m p


2/13/2020

I have taken private meditation lessons at Harmony Meditation for three weeks now. It's only been three lessons, how ever, the results of meditation can be felt. I feel much, much calmer, less agitated, clearer - for lack of a better word I want to say, I feel, free. The techniques taught to me have made my mind and body more stable, I certainly need more practice, nonetheless, this has been an upward positive experience. I do not want to describe my personal reason for seeking meditation, but I will say this; the mental and physical balance I have reached through meditation is priceless. Thank you Mr. Choi for your help and thank you Harmony Meditation.

Franco H


3/08/2019

Coming from college in New York City, it is always wonderful to be able to catch a breath through one-on-one sessions with Grand Master Choi. Through his help, I am able to self-reflect with a more conscious, awake, and understanding mind than ever. This is a place that can help you become grounded and more empathetic to your surroundings, others, and more importantly, yourself, in a way that can aid you through struggles or towards a certain internal goal, whatever they may be.

Julie Kim


12/25/2019
2019 Workshops Testimonials
I was able to be free in the movements and instruction of Master Lee and I feel I will be able to access the things I want from a place of universal access.  Insightful, enjoyable energy was realized by everyone as well as depth, peace, laughter, and understanding.  Thank you.

Alice B.
The physical activities and meditations in the workshop were very effective in making me feel relaxed, calm and clear minded.  Master Lee's teaching of Gateless Gate was very informative and easy to follow.  I believe continuous practice of it will be beneficial to me and to help me to maintain a healthy and mindful life.

Haiping Wu
It has been a relaxing and refreshing workshop "Gateless Gate"!  If the body or self has no constraints within, it will expand to a "bigger self" which will go toward "ZEN". This is a new discovery for me and opened up to a new way for me to continue my practice.  I enjoyed and learned a lot during this 5 hour session.

T.K. Wu
Very comprehensive workshop.  I enjoyed the meditation sessions blended in with teachings and exercises.  I came out very relaxed, peaceful and connected.

Carol
Learned a lot about myself and the type of person I want to become.  Good mix of relaxation, activity and self-reflection.

Mook B.
I like the concept of gateless gate and the tools to access it.  I also liked that the course didn't have religious overtones and is practical.  The length of each modality (i.e. exercise, teaching, meditation) felt right.  Very useful.

Carolina I.
The workshop was illuminating both physically and mentally.  The concepts of "101," emptiness and gatelessness introduced me to a new level of mindfulness and the potential for materially changing my approach to my daily experience of life.  It's a program I would recommend to anyone who would like to find a key way to control one's emotional reactions to really unimportant events.

Bob Beller.
2018 & Previous Years
"My 13yr old tried Master Alex's Tai Chi class and immediately wanted to join. After his weeks of class we have seen a vast improvement in his mindfulness. He has learnt how to focus and has developed a better sleeping pattern. Learning to let his mind control his body, expressing being more relaxed and in control. He now knows what it really means to focus, and that is wasn't just looking deep into the problem with his eyes and mind. My son has asked to continue with another session, and we are certainly for it. Our results are incredible! Thanks to Harmony!"

F Smith
"Master Choi is a remarkable man with insight I have not encountered before. While meditation is the term used, this is far more. His presence and energy cuts through to your essence. The sense you will have is that he is somehow centered in the great universe yet directly connected and focused upon you personally. You will love, admire and respect this man, and feel yourself immensely blessed to work with him as he quietly, softly yet powerfully cuts to the crux and essential points.
 We can all benefit from even a single session which I would heartily recommend, especially leaders and captains of industry. Yet, he is just as valuable in personal relationships and can help you enhance all aspects of your life. There is no one else to whom I refer with the title "Master". Few people in life truly enrich and inspire but Master Choi is one."

Dawn Races
"My daughter started one-on-one healing sessions with Master Lee about 3 months ago and we are thrilled with the results! Her grades have gone from B's to A's, her diet choices have improved significantly, and so has her willingness to socialize and go outside to play. When the doctor told us to change her eating and activity levels, we tried many approaches but we were micro managing everything. We tried a similar approach for school work, but it really stressed her out. We're so glad we found this support to address the root of the issue that seemed to be causing her so much distraction and complication. She is much more confident in the face of difficulty now. As a fifteen year educator and mother of twins, I highly recommend this approach! The level of care at this center is unsurpassed anywhere."

Lisa B. (Math Teacher)
"It is an awesome place beyond regular yoga class! I feel my body and soul refreshed and healed during and after class. My body and mentality have been much more strengthen over the years. All the staff are very nice and humble. I would strongly recommend Harmony Meditation class to those who want to be naturally healed and fortified with their body and soul."

J. Kim
"I was very impressed with my sessions at Harmony Meditation. My first introductory session was a one on one with Lee. It lasted one hour. It combined exercise and meditation. It was more than others have offered. I also met with Alex the Grand Master. Over all I was very surprised and satisfied with the encounter. It gave me a new perspective. As a result I signed up for ten meditation sessions."

Joe  Ascone
"Seriously good place to get your meditation on. This feels like healing the whole time your there. Instructors are genuinely interested in your well being. A must if you need some peace in your life."

Anthony 
"I finally found the right place for true meditation and healing.
I experienced an amazing healing process of my body and mind after one-on-one sessions with Master Choi. Now I feel much more stronger and brighter than before both on the inside and outside. Master Choi is a really great teacher. I am truly grateful for his wonderful support and guidance."

JW Lee
"1:1 sessions at Harmony Meditation worked really well for my husband to help manage stress, sleep better and become a healthier and happier person."

Valeria Harrington
"I attended a BrainHaveFun workshop after attending classes for just about a year. I walked away excited that I picked up skills and approaches in advancing my meditative practices to further increase mental focus, energy, reducing stress and overall well-being that was tailored just to me. Even if you are beginner, it's still worth attending a workshop to fast track anyone's development."

George Bird (IT Director, May 2017)
"I have many symptoms of relaxation, calmness and sweet dreams thanks to your healing. I realized that after such a strong intense healing I need to rest. I will be back as soon as possible for the second healing.Lots of gratitude for your healing presence for me. I am listening your CDS to keep my mind refreshed."

​Estela (Wineries Retreat Center Owner)
I came to my first class in Sep. not knowing what to expect only because I have been quite stiff and immobile for 8 years.  I had a car accident in 2008.  I already had spinal stenosis but the accident made it a million times worse.  My neck is fused from C-4 through C-7.  I have tried everything.  Then my sister told me of an 80years old woman who took Taichi has more balance than she ever had.  I am writing this after having 5 private sessions with G. Master Choi and can say the improvement is astonishing!  I have a new lease in life.  I have 7 granddaughters that I will be looking forward to having more fun with.  They are used to always having to give me an arm to hold on to or they say "Grandma, be careful the ground is bumpy. don't fall!!"  Now they will be pleasantly surprised.  Thank you G.Master Choi for all your patience with me.  I have a new kick in my step.  I want to shout it from the mountain tops.

Bette DiLollo (Grandma, Business Owner, 69)
I am grateful to have found G.Master Choi as a result of a car accident 5 years ago.  He is honest, kind and sincere and his meditation practices get to the initial problem.  It doesn't take many words for him to understand you because I feel his healing energy just by his presence.  He is clearly professional as you walk away from each practice feeling improved.

Barbara (Traveler and Mother, 60)
I am a new student, taking both Yoga and Tai-Chi classes with meditation. Even after only a few classes, and doing some home practice, I have dropped my stress level by at least an order of magnitude and have much more physical energy. The instructors are super patient with me because of my age and push me just enough to gain the benefits that I need. The center is super clean with no funky gym-like smells with easy access and plenty of off-street parking. Overall… highly recommended and reasonable priced.

George Bird (a man old enough to know and young enough to be wiser, IT Director)
I love this tai chi/yoga/meditation studio! The couple that runs it are great teachers and very helpful and kind. I had never done tai chi before and I really enjoy the moves: they are deliberate yet challenging. I would really recommend anyone interested in wellness or just in getting a fun work out to try one of their classes. Also the studio is beautiful and clean so it's a nice environment for class.

Julie Madan (Graduate Student, 24)
I can't begin to tell you how much tai chi has helped me. The Harmony Meditation center has become a place to relax and meditate. I am always greeted with a kind smile and then i proceed to the exercise room for my warm-ups. The exercises appear to be very easy but, many are not. It is very important to perform the movements correctly and when i do not, I am instructed to alter them. I am always told the correct way with a smile or funny phrase. I have arthritis in my hips and I was told by a surgeon that I would need a hip replacement in about a year. I am about 50% better and I credit my improvement with Harmony Meditation.

Marty Wallad (Retired P/T Teacher, 65)
"Great Experience –  Also very helpful over and above the time allotted. Glad I stopped in and inquired, will be back every time I arrive in Westfield."

Judith Norton (Psychologist)
"When the student is ready the teacher will appear" I have sought spiritual growth and enlightenment through new age teachings of the wisdom of ancient texts. While I found the concepts to be full of universal truths, I could not find an adequate vehicle to put them into practice. When I walked into Harmony Meditation in Westfield, for an initial consultation and assessment I felt my search was over. My mind, body and soul are all beginning to come together as one in unison with the oneness of all life. I have been released from emotional and physical pains that I have carried the majority of my life in under a month. With the guidance I am receiving at Harmony Meditation Center I am being renewed. I am becoming the person I am meant to be…open, loving, peaceful, centered and connected to all that is life. All I have to do is show up in sincerity and humility and trust…it is not as easy as it sounds but the rewards are miraculous.

Ed. E ( Project Developer, Owner)
Due to my day-time work using computer for long hours and the stress comes with the job, I used to have headache, neck/shoulder soreness and lower back pains constantly. By participating your classes 2-3 times a week, I felt a lot relaxed and could actually enjoy a restful night sleep without suffering much pain. Now, my headache is completely gone and my pains have reduced to a minimal level. I could never get the same results when I tried physical therapy before joining the center. Mentally, I also notice some changes. I begin to view things more openly and get less bothered by my high stress job. Practicing meditation certainly helps my whole body relax and allows me to have a clear mind and receive light. It is such a wonderful feeling. I am glad that I have the opportunity to be a member of your center and can explore various exercises to continue improve my mental and physical health.

Mrs. Wu (Computer Engineer)
Dear Grand Master Choi, I'd like to let you know something that I've been meaning to tell you before. You have the best workout around. I am never bored with your classes. They are always challenging, fun, and you keep them fresh and exciting. Thank you!
I have a worrisome mind that keeps me anxious constantly and not sleeping well. When I leave a Harmony Meditation class I realize that I haven't been bothered by anything but being relaxed for 60 minutes. It is such a treat for my mind that I have been able to go home and fall in sleep quickly and sleep better. As well as helping with my sleep, the classes have helped me physically too! I have always done workouts with running and rowing. However, I had injured my back years ago with back pain occurred frequently. Harmony Meditation enables me to stretch and relax tight muscles. I feel my back is being healed. Harmony Meditation has definitely improved my mental and physical health, which has helped me to better handle life's ups and downs."

Hai. (Principle Engineer)
During the last half year the Harmony Meditation Center has become my personal retreat. I was struggling to grasp my overwhelming emotions-anger, worries and fears-without any hope until I started to take regular classes and periodic private sessions with Grand Master Johwa. Under his guidance I learned to accept those emotions as a being a part of me without imposing any judgement. I found long missing peace with myself during the sessions. Master Choi helps me to bring this peace and control also to my family and professional life, which allows me to think clearly and make the choices necessary for the growth on an individual and professional level.

Lina Shenker (Financial Adviser)
Here's what our youth has to say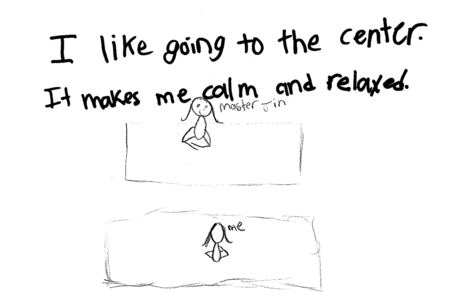 "Super relaxing will definitely do this again"

"Extremely relaxing. I felt at one with myself and the world. I would come back anytime"

"Very relaxed, headache is gone"

"Highly invigorating, I enjoyed it"

"Greatly Soothing; nice moment of self-reflexation"

"Very relaxing! loved it"

"So so relaxing! Great!"

A Teen Girl Scout Event (2017, from Springfield)
"positive thoughts, feeling my body, feeling my breath, seeing colors, feeling open, feeling more aware, It's easy to let things go"
– G. T.


positive thoughts, thoughts related to this practice, feeling my breath, I can relax"
– D. T.


"positive thoughts, feeling my body, feeling my breath, feeling positive emotions, feeling more aware, I need to find ways to slow my thoughts, I felt more relaxed and better about what I have to do the rest of the day"
– Diane


"feeling my body, feeling my breath, feeling more aware, how strong and weak the body can be mentally and physically"
– G. K

Review from  A Teen Group (Girls Scouts of NJ Troop, Watchung)
"Last Sunday I went to a meditation workshop "Chakra and Brainhavefun".
The mind has a mind of its own and I am determinate to guide it the best I can! Thank you."

Dora
"I feel peaceful, powerful and joyful after this experience.
I look forward to sharing my energy with my family and practicing being my soul. Thank you so much!"

Angela
"These intensive training always help me to come back to my soulful self."

Jong Y.